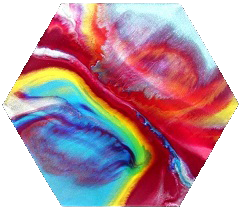 My&nbspart is&nbspabout color, flow, and movement. This is especially true for the liquid oils that I work with on many of my paintings. I guess subconsciously I am painting abstract versions of scenes from nature or my mental projection of scenes from universes not yet seen by man. So you may see a Maui sunset, the dance of the Northern Lights, the flow of lava into the sea, a geological cross-section exposed by years of erosion, a satellite photo of the earth, or the creation of a cosmos never seen by man in one of my works. Use your imagination and memories when viewing my work.

My broad goal is to create a finished painting that the viewer will find colorful and interesting. I&nbspwant my paintings to look different than the works of other artists, to convey a style and technique that is unique to me. Other than having a predominate color in mind for the painting when I start a new piece, I have no preconceived notion about how a finished piece will look. This allows me to focus on the process rather than the final product. As I work on a piece the existing colors on the canvas dictate what I do next according to how the applied paints are flowing and interacting.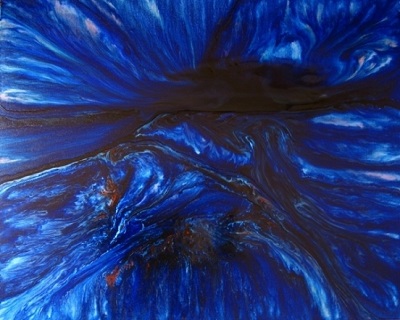 I&nbspbelieve that my art is not about me, but rather about the viewer. If ten different people have ten different interpretations of one of my paintings then I have managed to produce a painting that has triggered emotions and memories unique to each individual. That individual connection to the painting is what I ultimately want to achieve. I do not name my paintings because I do not want to force my interpretation of the piece upon the viewer. Likewise, I do not sign the front of my paintings. A front signature would dictate orientation for each piece and I want to allow the painting to be hung according to the preference of the viewer. On most of my pieces the sides are painted, allowing the work to be hung without framing.
I am not a mysterious person. Same with my art. As you view my art, know that I do not have any inner demons that I am fighting, nor do I have any hidden agendas or statements that I am trying to convey. If you find my work to be pretty and enjoyable to look at then I am satisfied that I have created a good piece. If one of my works invokes a deeper emotion then I have created a piece that connects with you as an individual, and that is the greatest satisfaction that I can have as an artist.